During late summer our market is filled from end to end with a wide variety of summer fruits and vegetables.  They are at their peak now and it is the perfect time to eat as much locally grown, fresh produce as possible!
Summer produce in general is quite versatile and easy to cook on a grill, air fryer, oven sheet pan, sautéed, cut up raw or in a salad.  We have lots of recipes on our website with new ones added each week.  Feel free to share your best recipes with us also and we'll get them posted.
Our bell peppers are large and gorgeous right now.  See simple ways to use them at the bottom of this newsletter.  They also freeze well.
With the field tomatoes debuting this week, be sure to include these in your menus.
Traditional BLT.  Thickly slice one of our tomatoes, add our Bankson's head lettuce and Jake's bacon, place all on our bakery bread, and serve with your own mayo!
Caprese salad is a simple and delicious dish of sliced tomatoes, mozzarella cheese, and fresh basil leaves.  We have what you need – very tasty tomatoes, pick your own basil leaves, mozzarella cheese in our refrigerator plus items for variations – spinach, arugula, mini-tomatoes, peaches, and olive oil and balsamic vinegar to make a balsamic dressing.  Here is a link to 30 different versions of this favorite summer salad.
Our Days and Hours
Our Days and Hours
–Open Thursdays, Fridays, and Saturdays from 9 am to 6 pm
–Open Sundays from 9 am to 4 pm
–Closed Mondays, Tuesdays, and Wednesdays
Watch our website homepage for updates or call us.  (269) 244-5690.
Blueberries
Already Picked.  We have already picked blueberries from Brookside Farms (our long-term blueberry supplier).  We sell them in pints and quarts as well as 5- and 10-pound bulk boxes.  Blueberry season typically lasts through mid-August.
U-Pick. Our small U-Pick field has peaked and is now on the downhill side for production.  It's still a fun experience if you want to bring the kids or family just to pick a few.  We will probably keep it open about 10 more days since the last variety (Jersey) is now ready.
The field will be open during our regular hours Thursday through Sunday and closes 30 minutes prior to the market. You do not need a reservation to pick.
If you want to pick more than a few blueberries, we recommend going to Brookside Farms in Paw Paw, 269-657-3500.
Check in at the market first for containers and directions to the field.  Pricing is $2.25 per pound. See our u-pick blueberry page for more information.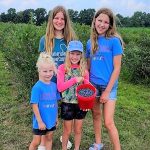 Sweet Corn
f you have been enjoying our sweet corn, that was just the warmup act for our real summer corn which starts this week.  Beth taste tested it last night, it is amazingly sweet and the ears are huge.  We will start calling on sweet corn bushel preorders soon.  Stay tuned.  Sweet corn is available on the market by the ear, half dozen (white bags), and dozen (clear bags).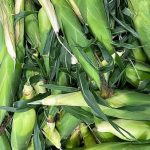 Summer Produce
Summer Apples
We are picking Jersey Macs. Jersey Mac apple is the first good eating apple of the summer, it has the best characteristics of a MacIntosh apple and packs a tart/sweet punch.  Great to have on hand but keep refrigerated; summer apples will only keep for 1-2 weeks.  We have samples to try!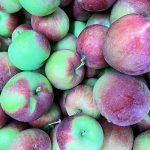 The early Lodi applesauce apple is almost gone.  If you want some, please call us at 269-244-5690 and we can get some ready for you, or ask the market staff when you are here to get them out of the cooler for you.
Peaches
We are working with several local farms to offer peaches and are selling them by the quart.  Please realize all peaches are picked firm to not damage them and need to ripen up by laying out on your counter until they are soft.
As more peach varieties ripen, we hope to have them available in half pecks, and possible pecks and half bushels.  Call or check our website for updates.  We are not taking orders for bulk quantities currently.
Bulk Quantities for Canning and Freezing
If you are interested in large quantities of vegetables for canning or freezing, contact the market (call 269-244-5690) and get on our sign-up sheet.  We will contact you when they are available.  The growing conditions and production yields are outside our control, but we will try our best to fulfill your order.
Green beans (half bu. minimum)
Sweet corn (bushel minimum, 5 doz.)
First quality tomatoes (half bushel minimum)
Second quality tomatoes (half bushel minimum)
Roma tomatoes (half bushel minimum)
Bell peppers (half bushel minimum)
Specialty peppers (quarter bushel minimum)
Pickling cukes (peck minimum)
U-Pick Flowers
Flowers from our terrace garden are ready to be picked and taken to brighten up a room!  There are lots of lovely ones to choose from to make up your own bouquet.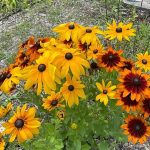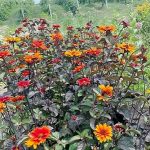 Check in at the market for a container and directions.  U-pick bouquets are $10 each and includes flowers and fillers (greenery).  We recommend that you pick your flowers in the morning when it is cooler, they will keep longer.
Alcohol Sampling this Saturday
Sample Wine and Hard Cider, Saturdays, 10 am to 2 pm
Sample our alcohol products or enjoy a wine pour or bottle of hard cider.  Each Saturday, we feature several of our products to give you an opportunity to find the one that is perfect for you.  Tastings are set up in our "breezeway," the area adjacent to the market with tables.
Alcohol Products
We have 8 different wines, 8 different hard ciders, and assorted fruit brandies.  Our products are made on-site in small batches.  We distill the brandies on the farm and use our fresh apple cider as the basis for fermenting our hard ciders.
During the heat of August, nothing is better than an ice-cold hard cider on a hot day!  We have a range of flavors from just apple to apple with flavorings, and dry to sweet.  Let us help you find your favorite!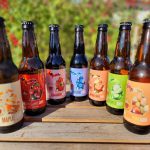 Enjoy our Spaces!
We invite you to sit and relax during our business hours at one of our areas by the market.  The spaces may vary at times depending on our space needs around produce harvest.  For years, people have been stopping by with friends and family to enjoy hanging out together at our vintage tables and chairs or picnic tables.  It is an ideal spot to enjoy a beverage or our many easy-to-grab food items on the market.  We have disposable table service available for your convenience.
This time of year with so much produce coming in you may have to share the space with buckets of produce!  Just part of the ambiance!
We can reserve table space for you upon request – just contact us.  If you are coming with a group, letting us know in advance is helpful.  Bring your friends, family, weekend visitors, and come on over!
Join us for 'Yoga at the Orchard'
We offer classes on Saturday mornings starting at 10:30 am throughout the summer   $15 per person, all ages and yoga abilities welcome.  You will receive a check-out slip to take to the market at the end of class that is also good for a free small slushie ($3 value).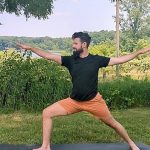 Bring bottled water, a beach-size towel, sunscreen, yoga mat, and shoes for walking to the class.  Insect repellant as necessary.  See webpage for details.
Register for Sunflower "Paint and Sip"
Make plans to join us on Friday, August 11 from 4 to 6 pm.  Cost is $37 per person, leave with a tote and a zip bag.
Start your summer weekend with a fun, relaxing, canvas painting class at the Orchard!  Kalamazoo artist Anna Barnhart will guide you through painting a canvas tote bag AND a personal canvas "pencil" zip bag of vibrant dancing sunflowers.  The tote bag and zip bag are perfect for back-to-school use, carrying work items, stowing project materials, or filling with books to read during those last days of summer vacation.
Open to adults and students aged 16 and over.  Budding artists aged 12 to 15 may participate when accompanied by a registered adult.
Hard ciders, wine, and non-alcoholic drinks will be available as well as snack items while you work!  All supplies are included for this painting workshop (wear a shirt you can paint in).
Explore your creativity and have some fun!  Register by calling the market at 269-244-5690 or online through the link below.  Class size is limited to 13 people.  Registration link:   https://www.signupgenius.com/go/10C0C44AAA82FA0FDCE9-painting
(If registering through Facebook, press and hold, versus clicking the link.)
What is on the Market this Week
Produce
Fruit: apples, blueberries, cantaloupe, early peaches
Tomatoes, red and green, from our greenhouse and field
Mini tomatoes
Broccoli, zucchini, cucumbers, cauliflower, yellow squash, kohlrabi, and onions
Peppers: various types, hot and mild
Sweet corn
Potatoes
From Bankson Lake Farms: lettuce mixes, spinach, kale, arugula, mushrooms, carrots, herbs, and garlic bulbs
U-pick herbs
Flowers
Faith in Flora will be here with fresh floral bouquets.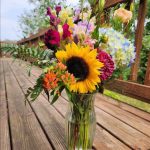 A neighboring farm has a field of sunflowers in bloom and we will bringing buckets of them over to sell this coming weekend.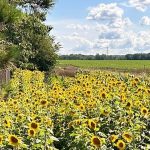 We also have already picked gladiolas in many beautiful shades of summer colors for sale by the stem.
Baked Goods
Enjoy these treats from our bakery!
Saturdays and Sundays only:
Cinnamon Rolls
Donuts – Buttermilk, Blueberry, and Cherry
Yeast Ring donuts – assorted sprinkles and googly eyes
Anytime we are open:
Blueberry-Zucchini bread – one of our signature items, seasonal, and very popular!
Strombolis (frozen, ready to bake) – assorted flavors in breakfast, traditional, and pizza styles
Cookies – Assorted flavors you will surely enjoy!
Muffins – A nice selection of flavors perfect for any time of the day
Breads – assorted types plus hamburger and hotdog buns
Focaccia breads – assorted types
Fruit pies (frozen, ready to bake) – Apple, Dutch Apple, Blueberry, Cherry, Peach, Pumpkin, and Strawberry Rhubarb.
Please contact us if you want to preorder any of our baked goods.
Some of our just baked blueberry and pistachio muffins!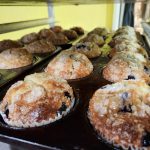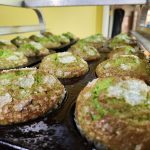 Grocery
Maple syrup products, honey, jams and jellies, salsas, yogurt, and Jake's meats.  We also have assorted cheeses, cheese crumbles, crackers, chips, hummus, mustard, eggs, milk, granola, salad dressings, and more.
Nothing goes better with sweet corn than a nice, thick, juicy hamburger!  We are now offering ground beef** from Jake's Country Meats to make the perfect burger.  Top it off with a thick slice of our homegrown tomatoes and our sweet onions.  Yes, we also make hamburger buns!  Yum!
**Jakes delivers on Friday afternoons so the ground beef will not be available until Saturday.
Yoder's fry pies in your favorite flavors: Apple, Black Raspberry, Blueberry, Cherry, Peach, Red Raspberry, and Strawberry Rhubarb.
Blessed Rainfall.  Last week we got close to 5 inches of much needed rain.  We received 2.6 inches the first day and had several subsequent showers.  It was enough to make a difference in the growth of the apples and grapes.  After the final inch fell, the apples almost doubled in size from before the rain.  Perfect timing as they finish maturing to harvest time!
Below is our half full rain gauge and a before and after picture of the Jersey Mac apples.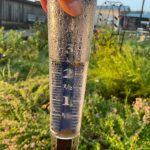 Green Onions.  We are pulling our sweet onions from the field with their green tops which are also edible.  While the onions really didn't like the winds of last week's storm and it broke many of them over, they will still continue to grow, and we hope to have a great onion crop when we start harvesting later in August.  Below are before and after pictures of our onion crop.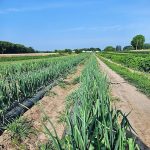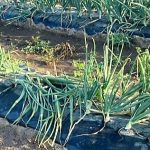 Pickling Cukes.  We will have pickling cukes this year for those wanting to can pickles.  They were seeded in our greenhouse months ago, transplanted to the field, and then "lost".  But we know where they are growing now!  Just call and get on our bulk order list.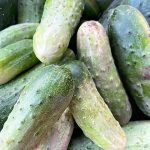 Kohlrabi.  The growing conditions have been perfect for the kohlrabi this year.  We have never grown them so large!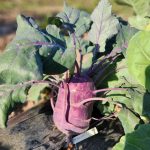 Field Tomatoes.  Finally, the truest hallmark of summer is here – vine ripened tomatoes from our field!  This is our first picking of them, find them on the market when we open on Thursday.  As more ripen, we will begin calling customers who have placed bulk tomato preorders.  If you are interested in canning tomatoes, please call us at 269-244-5690.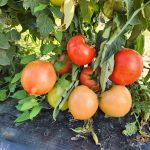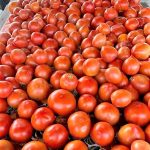 Special Exhibit at the Local Library
Check out "Spark! Places of Innovation", a Smithsonian exhibit at the Three Rivers Public Library, located at 88 N Main Street, Three Rivers.  It runs from July 8 to Aug. 19.
More on Bell Peppers
Peppers of all varieties are filled with flavor and nutrition.  One cup of bell peppers is 123% of our USDA-recommended daily intake of vitamin C.
Some of the easiest produce items to prepare are the items that don't require peeling.  Peppers are a notable example of simple washing and slicing.  They are simply "Slice, Pop and Pull: Slice the top, pop out the stem and pull out the seeds!"
When sliced into strips, bell peppers are the perfect size for dipping in one of our flavors of hummus or any of our salad dressings.
You can also use bell peppers as a delicious addition to kebabs on the grill.  Combine the bell pepper slices with mushrooms, tomatoes, onions, yellow squash, and zucchini.
Thank you for your continued support and for buying local.  Everyone at Corey Lake Orchards wishes you a safe and happy summer!