Corey Lake Orchards is opening the blueberry field for u-pick this year starting Friday, July 2, 2021.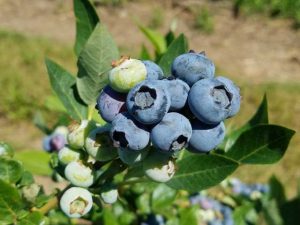 U-pick Hours.  The field is open starting at 9 am EDST and you must be out by 5 pm.  Closed Tuesdays.  Blueberries are best picked in cooler weather or in the morning otherwise they become soft so try to come before it gets too warm to pick.
Quantities.  Please realize blueberries are just starting so they are not all ready; therefore, until more ripen we will limit a group/family to small quantities only, approximately 5 pounds.  Whenever all the ripe blueberries are picked, we will close the field and reopen when more are ready.  You may want to call before you drive out to check on picking conditions.
If you are looking to pick a lot of blueberries, we recommend you try Brookside Farms, located in Paw Paw.  They have a delightful farm for you to visit and pick at – 269-657-3500 or check their website:  https://brooksidefarmsmi.com/
Check In.  Check in at the market and you will be directed to the field.
Containers and Pricing.  We will provide containers for you to pick in that you can take home.  If there are several of you picking, you may want to bring your own bowls or buckets along for everyone to have their own container, then can combine them into our container.
There are three container sizes:
–Large – $6
–Medium – $3
–Small – $2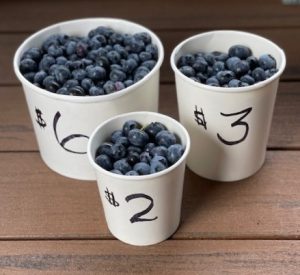 Payment and Check Out.  You can check out at the market or prepay when you check in.  We accept cash, checks, credit card, and WIC Project Fresh / Senior Project Fresh coupons.
Children.  Children are welcome but must be supervised at all times.  We are a real working farm with moving vehicles, and the field is located next to a highway.  We want everyone to have a safe, fun time on the farm.
Food and Drink.  Food safety regulations prevent the consumption of food and drink in the field, which includes eating those beautiful blueberries!  However, you can take breaks at your vehicle or at our seating area.  Anyone in your group who is not picking may bring a chair and sit in our seating area also.
Dogs and Pets.  Pets are not allowed in the field per food safety regulations to avoid contamination.  Our parking lot is not shaded, so for the safety and wellbeing of your pets please leave them at home where it is cool instead of in the vehicle.
Attire.  Depending on the weather, you may want to bring a hat, sunscreen, and bug spray; socks and shoes (rather than sandals) are recommended as we have uneven terrain and "pokey" straw/ weeds.  You may also be walking a bit as our rows are long.
Inclement Weather.  We will close the field if raining, inclement weather, or poor picking conditions.  So call or check our website before you come.
Milkweed.  If you are in the blueberry field, please smell the milkweed blooms (a most fragrant/lovely smell) and please do not hurt them even though they are considered a weed.  We have left them there on purpose to help restore the national monarch butterfly population.  The milkweed also attract a variety of other pollinators.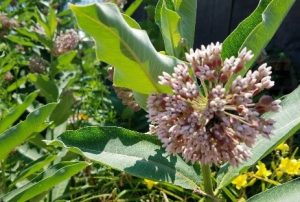 Length of Season.  The blueberry season lasts approximately four weeks, sometimes less, sometimes more.  Keep checking back for updates.
Using your Berries.  Pre-washing your berries before storage causes them to go bad sooner – wash right before consuming.
Field Rules.  We ask your support on the following rules.
Only pick if you are feeling well and healthy.
Wash your hands before your start and when you finish.
Honor social distancing.  Stay together as a family or group, kids, too, and keep an "unoccupied" blueberry bush between groups.
Only touch berries you put in your container.
Do not eat or drink in the blueberry patch, which includes sampling berries.