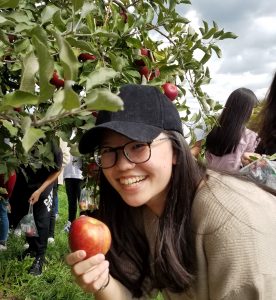 Corey Lake Orchards will be reopening the Apple orchard for U-Pick on Saturday and Sunday, September 25-26.  This year we implemented a reservation system for those who want to pick.  We did this to avoid crowds, lines to get into the field, and to be sure there are apples available when you come.   U-Pick Reservations this weekend are from 9:20 am to 4:20 pm. with an orchard closing time of 5 pm. See your confirmation email for information on where to check in.
Important Updates.  See the home page of our website for any last-minute updates on apple picking.   www.coreylakeorchards.com
The orchard is open on selected weekends only.  The variety of apples available to be picked will vary depending on what is ripe.  We will be picking in a new orchard with smaller trees.  While you can reach most of the apples from the ground, bringing a stepstool or kitchen ladder is encouraged.
The apple(s) available for picking this weekend are:
Cortland (a few left): A tart great baking apple for desserts, pies, and applesauce.  It is a descendent of the McIntosh, but a bit sweeter.  Known for its white flesh and excellent flavor.  Juices well.
Crimson Gala: This is a newer apple from the Gala family.  It has beautiful coloring, crsp snappy bite over mellow sweetness.  Great for eating, salads, juicing.
Golden Delicious:  A gingery-smooth, sweet taste under a thin skin. It is the most popular yellow apple, good eaten fresh, baked or cut in salads. Makes a nice apple sauce and many people use for canning pie filling.
Golden Supreme: A medium sized apple with a sweet juicy flavor. It is good for drying, baking, and making cider. It can be kept for months in refrigerated storage.
JonaGold: Superbly crisp and juicy with shades of tart and sweet in each apple, very large and aromatic.  Cross between a Jonathan and Golden Delicious.
Jonathan (a few left): A medium sized fruit with bright red color.  A sweet-tart flavor with a crisp texture which makes it great for baking, old fashioned caramel apples, and adds complexity to cider.
Mutsu:  Also called Crispin, it is a cross between Golden Delicious and the Japanese Indo apple.  It has a sweet-honeyed flavor mixed with sharp, tangy, and acidic notes.  They can be stored until spring.
Spartan: This has crisp white flesh, is aromatic and exceptionally juicy with a balanced sweet-tart flavor. Keeps well in the refrigerator.
Winesap (some): Is a well-known American heirloom apple.  It has a firm, juicy, light yellow flesh with a wine-like sweet-tart flavor.  It is an all-purpose apple that stores well, and it is favored for cider-making.
Zestar: This is a sweet-tart tangy apple with hints of brown sugar. Great flavor and keeps well when refrigerated.  Eating or cooking, it is one of the parents of the new Sweetango apple that has hit the market in the last few years.
Pricing.  You must pick a minimum quantity of one peck.  The prices are:
$6.50 half peck (may pick in combination with another half peck or larger size bag)
$11 peck
$16 half bushel
$30 bushel
How to Pay
Prepay at the market (you will be given a receipt to turn in to the field staff)
Pay at the field
Pay at the market after picking (you will be given a slip to turn in)
We accept cash, check, WIC Project Fresh/ Senior Project Fresh Coupons at the market and orchard.  Credit cards are accepted at the market only.
To Make a Reservation.  Click the reservations link below to make a reservation.  There is no fee but there you must pick a minimum of one peck.
https://www.signupgenius.com/go/10C0C44AAA82FA0FDCE9-apple
In addition to your contact information, the system will ask you how many individuals in your group are picking and the approximate number of apples you plan to pick.
The reservation system will open several days in advance.  Additional slots may be added to dates and times depending on the quantity of apples remaining to be picked.
Please be patient as we work through implementing this new system!  We will try our best to accommodate all who want to pick.  If you have difficulty using it, please call us at 269-244-5690 for assistance.
What to Bring.  We will provide you with bags for picking.  You may bring short, kitchen-type stools to help you reach the fruit.
All restroom facilities are located at the main market.
U-Pick Etiquette
Pick only if you are feeling well and healthy.
Please follow the instructions given to you by the orchard staff.
No climbing trees or bending down branches as these actions will damage or break the limbs on the tree. We want our trees to be "fruitful" for years to come.
Pick only in the designated areas / trees currently open for picking. The other apple trees are later varieties that are not ripe yet.
Honor social distancing.  Stay together as a family or group, kids, too, and maintain distance from other groups.
Only touch apples you put in your picking bag.
Do not eat or drink in the orchard, which includes sampling apples. Our picnic areas will be open, and food and drink can be consumed while sitting there.
For food safety, a handwashing station and portajon are available at the main market.
You are not allowed to drive into the orchard but will be parking on the perimeter.
Please drive carefully in the orchard area, watch for pedestrians and trees.
Please be respectful of other guests and our property.
How to Pick Apples
Please pick apples from trees with orange cones / designated area
Pick the ripest apples
Pick like a pro! When two apples are together, hold one in each hand to prevent one from falling when you pick the other.
Be gentle putting them into your bag – or when you get home they will be bruised
Please be careful in the orchard, your safety is important to us
Please be gentle with our trees when picking, no climbing on trees. FEET ON THE GROUND
Due to food safety regulations, we ask that no dogs be in the picking area. They can be in the parking areas on a leash; please pick up after them.
If you need help, have questions, or need another bag to pick more apples, find the orchard supervisor.
Have fun!!
Questions.  Please call Corey Lake Orchards at (269) 244-5690 during business hours (9 am to 6 pm Eastern time) to speak with one of our staff.
Have fun, be careful in the orchard and enjoy your apples!  We hope you visit us at the main market for an ice-cold slushy, a donut, or other goodies!