Santa and Mrs. Claus will be returning this season to Corey Lake Orchards!  They look forward to taking a break from the seasonal frenzy at the North Pole and escaping to the quietness of our farm.
Reserve your spot now to visit with him and Mrs. Claus and take some holiday photos with your family.  Photos of family dogs, with or without their humans, are also welcome.  The inner working area of the 100-year-old barn by the market has been festively decorated with the quaintness of yesteryear and with several nice vintage photo spots.  Santa's young visitors will also receive a complimentary hot beverage and Christmas cookie.
*The North pole has advised us that Santa's sleigh will have no problem handling rain, sleet or snow to get here.  We assured Santa and Mrs. Claus that they can meet with visitors inside the barn, and visitors can be dropped off by the market to avoid the inclement weather or uphill walk from the parking lot!
Dates:  Saturdays – December 4 (sold out), December 11 (sold out), December 12
Hours:  10 am to 2 pm  (until 1 pm on Dec. 12)
Reservations Recommended
Cost:  $20 per family
Make your reservation online at https://www.signupgenius.com/go/10c0c44aaa82fa0fdce9-anoldfashioned
Walk-ins are welcome (there may be a short wait) as we realize this is a hectic time of year and pre-planning may be challenging.
Photo Opportunities
Bring your camera or cell phone and take advantage of our photo backdrops to make holiday photos of your family.  (Mrs. Claus or one of our staff will be happy to assist with taking photos).  In addition to Santa and Mrs. Claus, backdrops include: a vintage sleigh, candy-cane swirled play area, a child's "toyland", a Charlie Brown Christmas tree, garland apple bin, and more!  We have placed snowflakes on the floor to mark the best places for photos.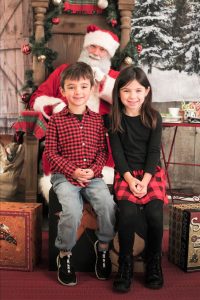 Attire
Dress in your warm holiday attire as this is primarily an outside event though we have added some heat by Santa and the photo areas.
Conversation with Santa
When you make your reservation online, you will be asked information (optional) on your children like names, ages, city of residence, and gift wish list that will allow Santa to have a personalized conversation in the quietness of the setting.  And for the little ones who are not sure about these people dressed up in red, they can simply enjoy the space around them where they can sit on an antique toy tractor, find a doll to hug under the Christmas tree, or sit with their parents in the sleigh.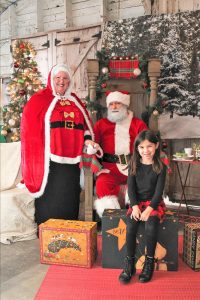 Address
Corey Lake Orchards, 12147 Corey Lake Road, Three Rivers, MI 49093
(269) 244-5690
Changes to Reservations
Should we have to reschedule you in case of inclement weather or other unforeseen situation, we will contact you by phone (using the cell phone number you provided} to discuss other scheduling options.
Contact us by email Brenda@coreylakeorchards.com or by phone (269) 244-5690 should anything change on your end.  If you cannot reach anyone at the market, please call (517) 898-9774.
Visit with Santa Event Information
The safety of our customers and staff is important.
Only one family is scheduled at a time
Appointments are set for every 10 minutes
Social distancing between Family and Santa/CLO staff will be in effect
The photo backdrops are located inside the barn and outside the market
Pointers to make your experience as sweet as Sugar Plums.
Please arrive on time and be respectful of the allotted time for each family. Whenever possible, we will be trying to accommodate walk-ins.
Dress in holiday outdoor attire and please dress warmly, it is winter!
You will be visiting Santa first, other photo areas second, the market third, and playground (optional) last.
Answer the Questions included in the reservation system. We are collecting information about your child/children — like name, age, gifts desired — to personalize the conversation with Santa.  The information will not be used for any other purpose and discarded after your visit.  The questionnaire is optional.
We have several nice vintage photo backdrops available and encourage you to take family photos. Bring a camera or your cell phone; Mrs. Claus is available to snap one as needed.  These will make a great holiday greeting card or a special photo gift!
If you are bringing a pet to include in the photos, please make sure the animal is well behaved and leashed. You are responsible for cleaning up after the animal as needed.
Restroom facilities are limited to a portajon as our public restrooms have been winterized and the water shut off.
Shop at the 'Tis the Season Holiday Market
Our market will also be open on Saturday with fresh vegetables and apples, our hard ciders, brandy and wines, our own baked holiday cookies, an array of local meat, cheese, honey, fresh vegetables, maple syrup products, gift bags and baskets, local artwork and cards, and stocking stuffers.
We are thrilled to have Santa at the farm for this special event.  We are happy to answer your questions or email you additional details.